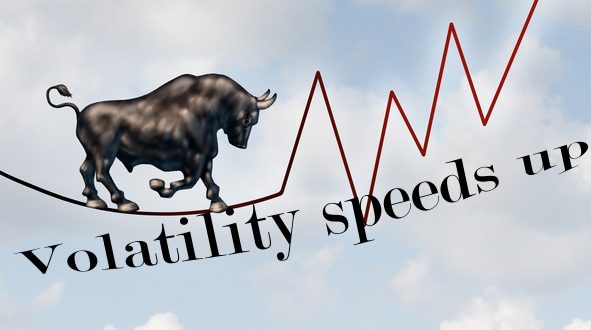 Volatility in EM financial markets speeds up
In different ways, weekly reports of investors' investment decisions speak a clear language. During the weeks from the 16th April to the 7th May, there was a significant outflow from funds investing in emerging market countries. In the week starting Monday the 1st May, equity funds lost the most, but in total, the funds investing in Emerging Market bonds have had the largest outflow during the three mentioned weeks since 2016.
It is remarkable when a significant majority of investors remain positive based on higher global GDP growth, which even should be an advantage for Emerging Markets. Once more, the golden question arises- whether this just is a short-term fear that pops up in the global financial market right now, or whether it is a fundamental change of direction with a broad-based sale of Emerging Markets assets as a consequence?
One of my basic views on the global financial markets is that the upwards move in interest rates in the United States will be bigger than expected. The global effect on the markets will also be bigger than foreseen right now, thereby affecting stocks and bond markets in emerging markets countries. The move in the 10-year U.S. Treasury yield is incredibly important and deserves a few lines, but there is more to the story than just what the U.S. Federal Reserve Bank (Fed) decides about the interest rate.
Though just to cover the Fed and U.S. interest rates first, which was long before Fed began to hike interest rates, I argued that the U.S. interest rate (Fed funds) was too low – and I still do. The two further interest rate hikes that the entire financial market has already priced is not enough either. With the current level of activity in the American economy with low unemployment and rising inflation, Fed funds should be 4 pct. and not the current 1.75 pct.
But no matter how far Fed's journey concerning rate hikes goes, my expectation has always been that it's what I call a correction, and it's still my opinion. Meaning the Fed fund rate will move from zero to 2.25 or 4 pct., or wherever it ends, and then the correction is over. My argument is that I cannot imagine the American GDP growth to rise towards unexpected high levels nor the U.S./global inflation to exceed 4 pct.
Together with Fed's rate hike, the tightening dollar liquidity ("tapering" in Fed language) is not insignificant for Emerging Market countries as many have an economy which is closely linked to the dollar. The dollar liquidity remains ample and from the central banks in Japan and Europe, large volumes are still pumped out in the financial system. But it is the much-valued liquidity from Washington D.C. which one must keep an eye on.
The situation with a tighter monetary U.S. monetary policy will come, as expected by virtually everyone. When it happens, it cannot avoid giving some turbulence, though it is not surprising either. However, if the American monetary policy tightens faster than the markets expect, then the period with higher Emerging Markets volatility is prolonged – it is my main scenario that this is what to expect. Nevertheless, I would argue that these movements and market reactions are expected, and can be explained, i.e. the volatility will be higher, but it's no reason to panic.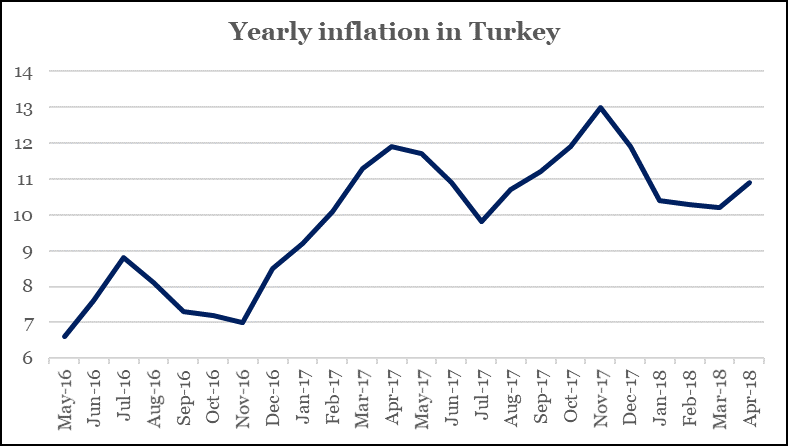 Recently, however, there have been local crises that have developed very rapidly, which I find worrying. In Hong Kong, there has been a pressure on the local currency for a long time. This kind of market pressure must end after a period of time, otherwise there is a risk of suddenly a major crisis. Turkey's inflation has jumped to an unpleasant level (graphic one) and has now become a real threat to the economy, while at the same time, Turkey's lira is dropping dramatically. Last week, the country's president Erdogan, suggested that the government should take more control over the central bank. So, for very understandable reasons, even more investors leave the country.
That the Argentine peso loses its breath happens once in a decade or so, but this time, it has been a particularly hefty movement. Even a peso that loses 20 pct. towards the dollar within a few weeks (graphic two) is after all a rarity. All these developments have been seasoned with lower than expected European and Japanese GDP-growth rates for the first quarter.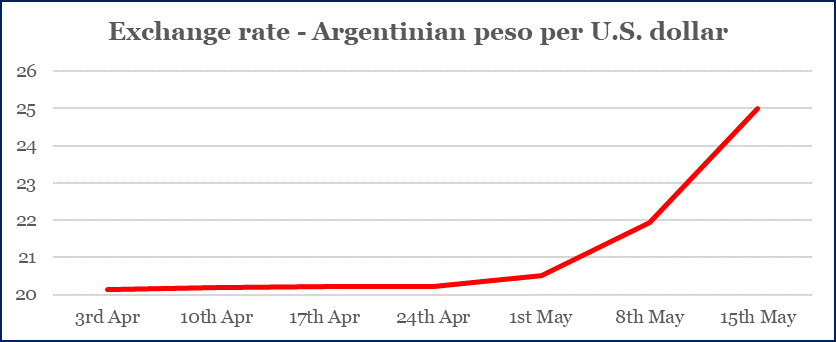 I do not link the individual developments together with a global Emerging Market crisis because that is still far from the case. The U.S. 10-year Treasury yield has increased by 0.75 percentage points over the last six months. During the same period, the interest rate for debt issued by Emerging Markets governments has increased by approximately one percentage point on average. The fact that interest rates rise more in Emerging Market countries than in the United States is not surprising. Therefore, I argue that the current higher interest rates for Emerging Markets debt do not include any add-ons for extra nervousness.
The very fast and nervous developments in, for example, Argentina and Turkey, I take as an indication about investors that are increasingly concerned and ready to sell out. The combination of further rising U.S. interest rates and the reduced dollar liquidity will result in further increased volatility in the Emerging Markets countries. In the weakest countries, the tapering will also reveal that the abundant dollar liquidity has helped state finances fill some gaps.
It might seem tempting with the current higher returns, but despite the prices, particularly on bonds that have fallen in many Emerging Market countries, then I do not consider Emerging Markets to be attractively priced yet. My main scenario remains that the spread between Emerging Markets and U.S. yields will widen further, and that the upwards move in American interest rates will gain in pace – i.e. all adding to higher volatility.
Click here to join our thousands of readers around the globe who receive our financial markets insights for free.