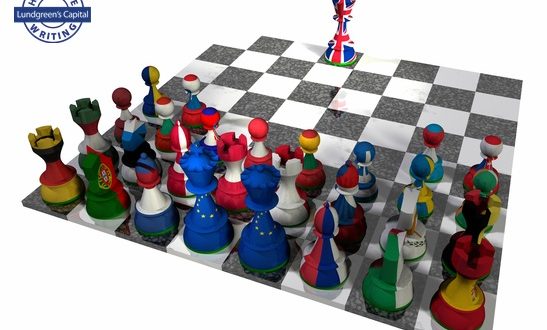 Financial markets are waiting on U.K. & EU
Teaser: The negotiations between EU and the U.K. will start again after the summer holidays, this increases some risks, but also opportunities for investors, especially in October and November.
If I should assess the British economy in a few sentences, it will be that the U.K. has its macroeconomic challenges, but they are no bigger than in other countries. Actually, the GDP growth for the second quarter was in the upper-end compared to a range of other countries. As graphic one shows, the British GDP growth stood at 0.4 pct., which is in line with Germany. Worth to notice is that the output growth in the construction sector continued its rise and even surprised on the upside (graphic two).
Though the positive economic numbers do not match how many investors are positioned in British stocks and assets in general, a number of surveys among international investors show that the investors have underweighted U.K for quite some time, including British stocks.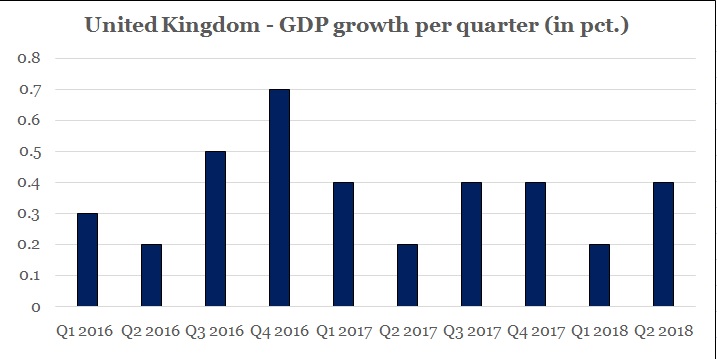 As the holidays are now coming to an end in Europe, I expect that negotiations concerning the Brexit agreement will soon start waves that will go back and forth between the EU and the U.K. It may well contribute to increased volatility in the stock and currency markets for the next few months-at least based on specific negotiation proposals that the market participants can judge and analyse. But in the background, the hard Brexit (or "No deal")threat will continue to resurface. The hard Brexit risk is a difficult one to price-in. My observation is that since the financial crisis about 10 years ago, an increasing number of investors and market participants in general, have become more afraid of the unknown risk from a future economic situation than investors previously have been – this is in my view equal to an increased risk aversion towards event risks like the Brexit outcome is.
My primary scenario is that the negotiations will drag on, combined with a tendency that in recent years the financial markets have dealt with complex risks around five months ahead of a deadline. I therefore expect the nervousness in the financial markets to rise further until mid-October and November.
The previously mentioned increasing risk aversion towards unknown outcomes means it is natural to take a larger risk premium or expect a larger price decline before a purchase is considered attractive.
My point is, of course, that investors are already underweighted in British assets and the British pound (GBP), soa further underweighting increases the likelihood that assets and the GBP will be mispriced.
After the Brexit vote, there was a fear of a significant weakening of Britain's economy, but the decline didn't materialise. Now, the financial markets need to consider a hard Brexit outcome with some probability (though unlikely) – this outcome has unknown consequences which are difficult to calculate into the asset prices, hence keeping investors away.
In that assessment, my own consideration is how negative a hard Brexit will really affect Britain's economy?
The answer is of course unknown, though in many analyses, there is heavy focus on the relationship with the EU, which is clearly incredibly important. A hard Brexit will hit the free movement of labour between the EU and the U.K.and tariffs on goods will be imposed on both sides. The queues at the borders will be slower and longer everywhere, including airports. It will be outspoken in the important ferry port Dover, where a majority of freight transport is carried-through.
Many British companies will explore a heavier administration like from two months ago,where 250,000 small to midsized British companies were asked to start the routine of completing customs declarations. Thousands of new customs officers needs to be recruited, and millions of British citizens must have issued new personal documents. Many will feel the hard Brexit if the EU and U.K. do not find an agreement. Though after all these challenges have been overcome, life will continue, along with the trade with the EU,including customs – everything will have a price, and it will weigh negatively, but U.K. does not drop into a black hole, so there is a limit on how large a risk premium investors should price-in the valuation of British assets.
Another significant negative factor is Britain'sformal exit from a number of trade agreements with other countries that are in place via the EU. It is a negative uncertainty,though I argue that this factor already is priced-in the financial markets, but new opportunities that will be positive for U.K. are not priced-in.
In the future, Britain may be more flexible than EU in negotiations about free trade agreements – the U.S. is the obvious example. President Trump has expressed the wish for a free trade agreement with U.K., though reality is that there has not been much movement during the past 12 months. Should U.K. manage to get a free trade agreement with the United States, I would be very quick to look at British stocks within pharmaceuticals,automotives, refined petroleum products and certain segments within machinery. A partial free trade agreement is a more likely first step and it very well could be positive for some of the sectors mentioned.Other free trade agreements, I would also consider as positive milestones and they will come.
When the expected increased volatility hits the U.K. financial markets in October and November, stocks in the FTSE 250 index will grab my attention. These are the 100 to 350 largest companies listed on the London Stock Exchange, and in my opinion, companies that often are in the top within their field, also internationally. In addition, many of these companies actually have increased their investments each year after the Brexit vote, so they show good strength.
Concerning the GBP exchange rate, several calculations based on the purchasing power parity indicates how that the pound currently is fair-valued. Here, I pay attention the underweighting of investments in British assets and argue that when the capital flows reverse, the pound will trend upwards again, reaching a level around 10 pct. higher than today–Naturally it all depends on the Brexit negotiations and timing will be the deciding factor, but it is certain that some exciting months are awaiting ahead.
Click here to join our thousands of readers around the globe who receive our financial markets insights for free.