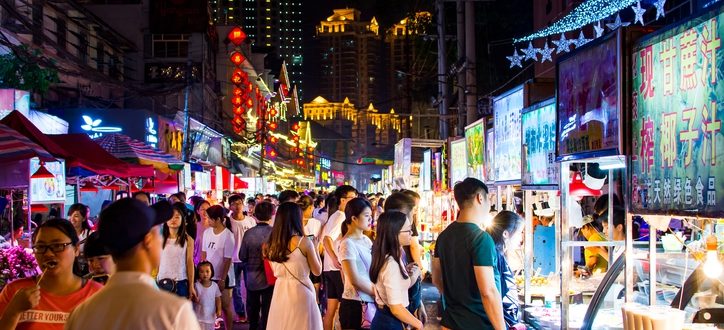 Excitement over China's growth
Teaser: China's government expects a GDP growth of 6.5 pct. this year and a number of economists even predict 6.6 pct., though it could suddenly turn out to be too optimistic.
A stable GDP growth of around 6.5 pct. in China on the surface seems reasonable, but everyone knows that China is in a storm – or at least an American storm. China's government is known for speeding-up investments in infrastructure if economic growth should show signs of weakness. This is of course an option available at any time, but the Chinese government is very focused on reducing the debt mountain in China. I expect that the latter hurdle weighs more for the government, though it also leads me to challenge the market expectation of 6.6 pct. GDP growth.
Each country in the world has its imbalances, which also applies to China. On the other hand, I do not regard China as having more challenges than most countries. The debt load is one of China's imbalances which I consider as one of China's worst economic challenges like many others in the financial markets also seem to do. The most important thing however, is that China's government also assess the problem as very serious and will work towards getting the debt reduced.
Chinese government debt has increased from 30 pct. of GDP in 2012 to 52 pct. in 2017, which isn't a concern, but it is the corporate debt everybody fears. Overall, the private sector's debt has jumped from 140 pct. of GDP in 2012 to 190 pct. in 2017. The debt among private households has risen during the period, so it now amounts to approximately 50 pct. of GDP, though this does in no way cause a concern either. I regard it as a natural development when a new consumer economy is arising.
Corporate debt is where the government wants a reduction, which in fact means consolidation and lower leverage in corporate balances. This will generate a slowdown in GDP growth, however, it is uncertain how fast the development happens.
This negative impulse for China's economy comes at an unfortunate time due to the trade war with the United States. However, it is my view that Beijing considers the debt reduction to be so important, that it is ready to accept the negative impact that this may have on GDP growth, regardless of the trade war.
As a counterweight, the government is implementing a large tax reform this year. This applies to both corporations and households where the tax cuts for the first group have been completed, but for household taxpayers, the income tax reductions will have effect from 1st October this year and the 1st January 2019. The new tax reform has been long under way, but undoubtedly the trade war has speeded up the work. It's an official hope that increased domestic private consumption can counterweight the effect from the trade war.
The Chinese government has outspokenly urged the Chinese to consume more given the extra money that tax the cuts provide, and that is with good reason.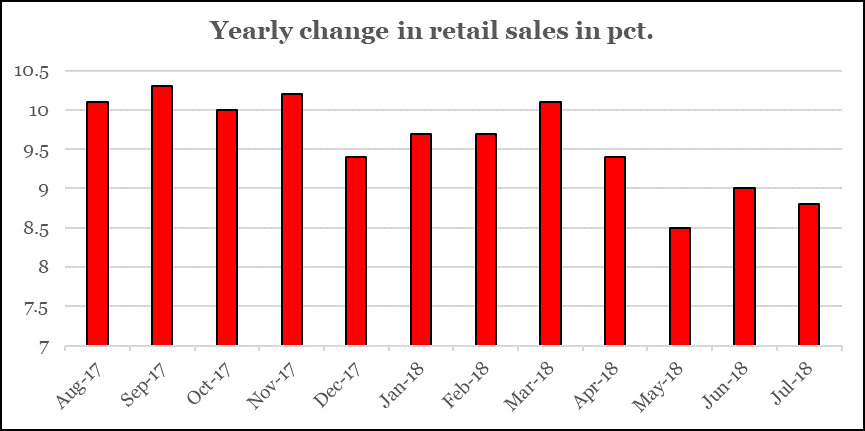 As graphic one shows, the growth rate in retail sales has decreased since April. In my company, we currently spend extra time on this dive in the Chinese private consumption. We think it is uncertain whether there is a real slowdown in consumption or just a shift due to higher food prices and that some consumers are starting to buy products of higher quality. But we also look at the phenomenon of increased household borrowing, as mentioned earlier, compared to the retail sales growth that is under pressure. These are some of the reasons why I argue that there is a current uncertainty on the direction of private consumption.
I am really excited about whether the tax cuts can move private consumption- so much that it results in a noticeable GDP growth. There is no doubt that the tax reform increases the disposable household income, but the leaping point is whether it is converted into consumption or savings.
If China's economy should maintain high growth rates in the future, private consumption is deemed to expand and play a more dominant role in GDP growth. There is no doubt that this is the direction, but I am also observant of the speed of the development.
This development fits with my long-term expectation that China's economy is changing significantly towards a domestic-driven economy. It is no secret that China's government has this objective because the political leadership is constantly trying to reduce dependence on exports.
In my view, it is uncertain how quickly further private consumption can be pushed, but I am doubtful that it will have a significant effect in the coming fourth quarter. As minimum, the improved consumption conditions must be visible when the Chinese New Year's is celebrated in the first quarter of 2019. It is the very large annual consumer-spending feast where the tax cuts must fuel the party.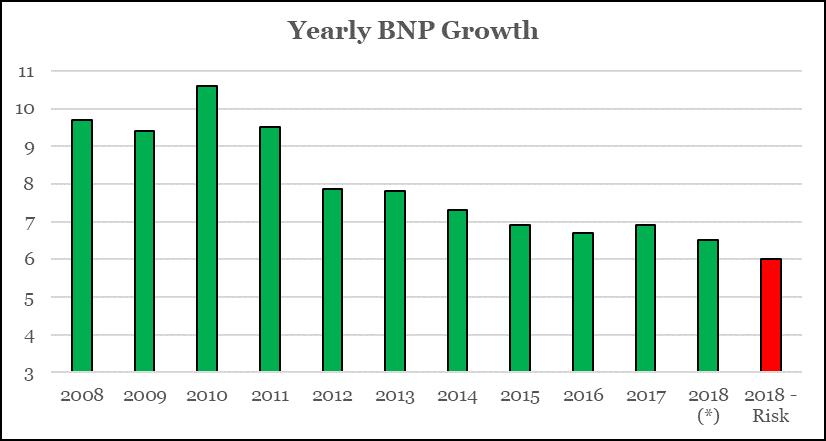 I expect the U.S. trade war against China to show an effect in the second half of this year, where some Chinese companies will notice the negative effect of import duties. Combined with the previously described official ambition to lower the debt mountain, my most likely scenario is that during the next six months, the economic headwind will be stronger than the possible tailwind from increased private consumption. Therefore, I argue that the coming six-month period compromises a growing risk, and that the annual GDP growth is moving faster towards six pct. than the financial markets expect (graphic two).
Bad news from China always gets bigger headlines than good news, so a faster decrease in the annual growth rate will definitely get attention. Right now, my assessment is that too much fear is priced in the Chinese stock market, and therefore a 15 pct. gain before year end is very likely. Should the GDP growth prove to be moving towards six pct. within the next six months, then equity investors will not be comfortable when the Chinese New Year is over – but that is entirely up to Chinese consumers.
Click here to join our thousands of readers around the globe who receive our financial markets insights for free.