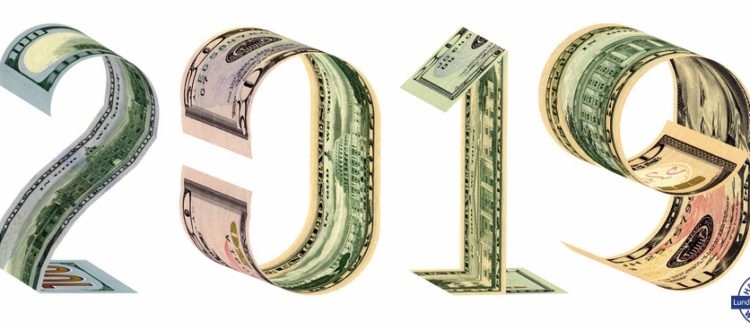 An exciting currency year awaits in 2019
Teaser: The coming year will start-up with higher volatility, though at the same time it offers good opportunities for investors.
The year that is now fading-out has prompted a couple of hefty currency crises and general headwinds in many emerging markets. Concerning the currency markets, I will remember this year for these large movements, but also for the speed in which they arose and developed.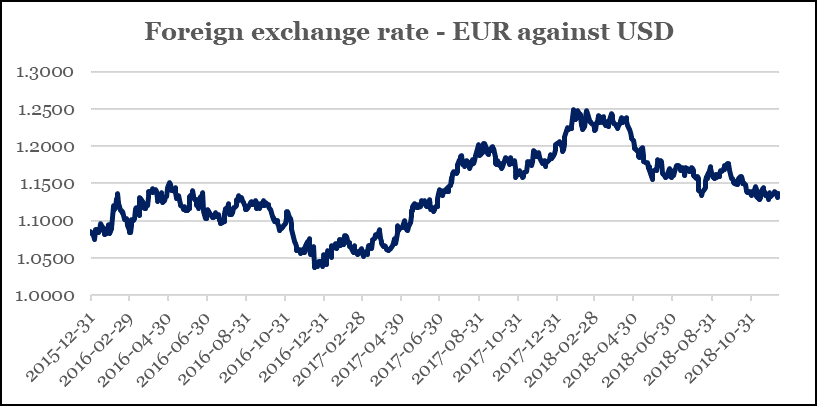 Despite several particularly volatile periods in the foreign exchange market, the U.S. dollar fluctuations have been within the reason. As graphic one shows, the U.S. dollar depreciated significantly against the euro last year (2017), though it does not mean that the year is remembered as particularly volatile.
This often is because the movements have resulted in a continuous trend without major gaps in the trading pattern. At the same time, 2017 offered positive returns in most asset classes. Therefore, last year was not a crisis year for investors around the world despite the U.S. dollar losing as much as it did, though 2018 has been different.
The speed in the development of a currency crisis means a lot when I judge the severity of the move because it acts like a "fear barometer", and the financial markets surely have become more concerned about "crises". I expect the rising crisis fear to continue in 2019, also indicating higher volatility, for a period at least. I am very much aware of whether it will continue to hit single countries, or whether a crisis could spread broader in the foreign exchange market in 2019.
As graphic two shows, Argentina and Turkey were really hit by a currency and economic crisis this year. Because the calendar turns into "2019" in a couple of weeks, the crisis is not gone for these two countries.  On the contrary, I expect it to even worsen in the next couple of years.
The change is that when a country nowadays falls into the economic black hole, it is very difficult to recover compared to how it previously was.
Global GDP growth is declining, and at the same time, GDP growth is changing to be domestic-driven with focus on infrastructure investments and social welfare. For countries that have dropped down in the black hole it therefore has become harder to export itself out of an economic crisis.
As the graph shows, the U.S. dollar has increased by almost 100 pct. against the Argentine peso this year. But in a world with growing trade barriers, the result of a significant devaluation is simply a domestic fatal economic situation and not a strong increase in exports.
I acknowledge that both Turkey and Argentina have experienced higher exports in the second half of this year. In particular Turkey seems to have been selling more goods due to its heavy devaluation. For both countries though, the case is that the progress in exports can by far compensate for the economic downturn taking place.
These two developments almost took place in an explosive speed, as mentioned. It is my opinion that this phenomenon will last for years to come and 2019 could very well offer similar experiences.
Most probably, many investors still fear higher volatility in Emerging Market currencies, especially if U.S. interest rates continue to rise. I share this worry particularly for the first quarter of 2019. In the recent speech held by Jerome Powell from the U.S. Federal Reserve Bank, he indicated that the rate hikes next year will be more graduated, but on the other hand, my argument is that they will still come.
In my view, the U.S. economy remains fairly strong as far as one can look into 2019, and therefore, there are more interest rate hikes to come than the financial markets are prepared for.
As the U.S. central bank continues to tighten its liquidity as well, this monetary cocktail will also be a burden for some Emerging Markets countries in 2019 – the risk remains that a couple of countries will be squeezed like this year.
In my main scenario, I still expect more bad headlines about China's domestic growth to come. Last Monday, 10th December, Urjit Patel, the governor of India's central bank, stepped down after a long period of disagreement with his government – this is not good news for Emerging Markets currencies. In Brazil, the new government will change the country's economic direction completely, which also argues for a turbulent start in 2019 for Emerging Markets currencies.
Despite such turn of events and an outlook that seems negative, I actually expect that the first quarter in 2019 will offer quite reasonable opportunities for investors who are looking to increase the risk allocation towards Emerging Market countries.
I assess that the U.S. dollar will continue to profit from the higher American short-term interest rates. I expect the U.S. dollar to steadily increase with the same plus five pct. against other major currencies in the coming year, same as how it was this year. The expectation of the fairly calm development in the U.S. dollar exchange rate also indicates that I am less concerned about a global economic crisis. Instead, I still regard the global economy as fairly robust – particularly ex. the Eurozone.
Among the major old economic zones, there are the best prerequisites for volatility in Europe. In forefront is Great Britain, where the current domestic political developments concerning the Brexit contributes maximum excitement. Though when a solution is found, it remains my view that there are good opportunities for investors, but as mentioned, it requires that a final direction for the Brexit deal is found.
In the Eurozone, the pressure on most economies is obviously increasing, but it does not mean that I think a recession is ahead. However, it is my expectation that the volume of bad news from some countries in the Eurozone will increase, and it poses a risk of higher volatility, where a deteriorated economic situation in Italy is the most obvious. This is my main scenario and therefore, I expect the euro to drop about five pct. against most currencies during 2019, meaning the total price movement in euro against U.S. dollar will be 10 pct. – in the greenback's favour.
Click here to join our thousands of readers around the globe who receive our financial markets insights for free.