An investment in knowledge always pays the best interest.
In lieu of Lundgreen's goal to edify and share its diverse cache of financial information, anyone who wishes to receive the weekly newsletter "Economical Spotlight" may order a complimentary copy from Lundgreen's Capital.
Magazines that cover more diverse topics and insights are also available via quarterly publications called "Lundgreen's Quarterly" and "Lundgreen's China Quarterly," which cover key and trending issues on the European, Chinese, and other global financial markets.  The magazines are published on the first month of every quarter with the following months supplemented by a digested version called "Global Markets in 12 Minutes," which is published every first Friday of the month.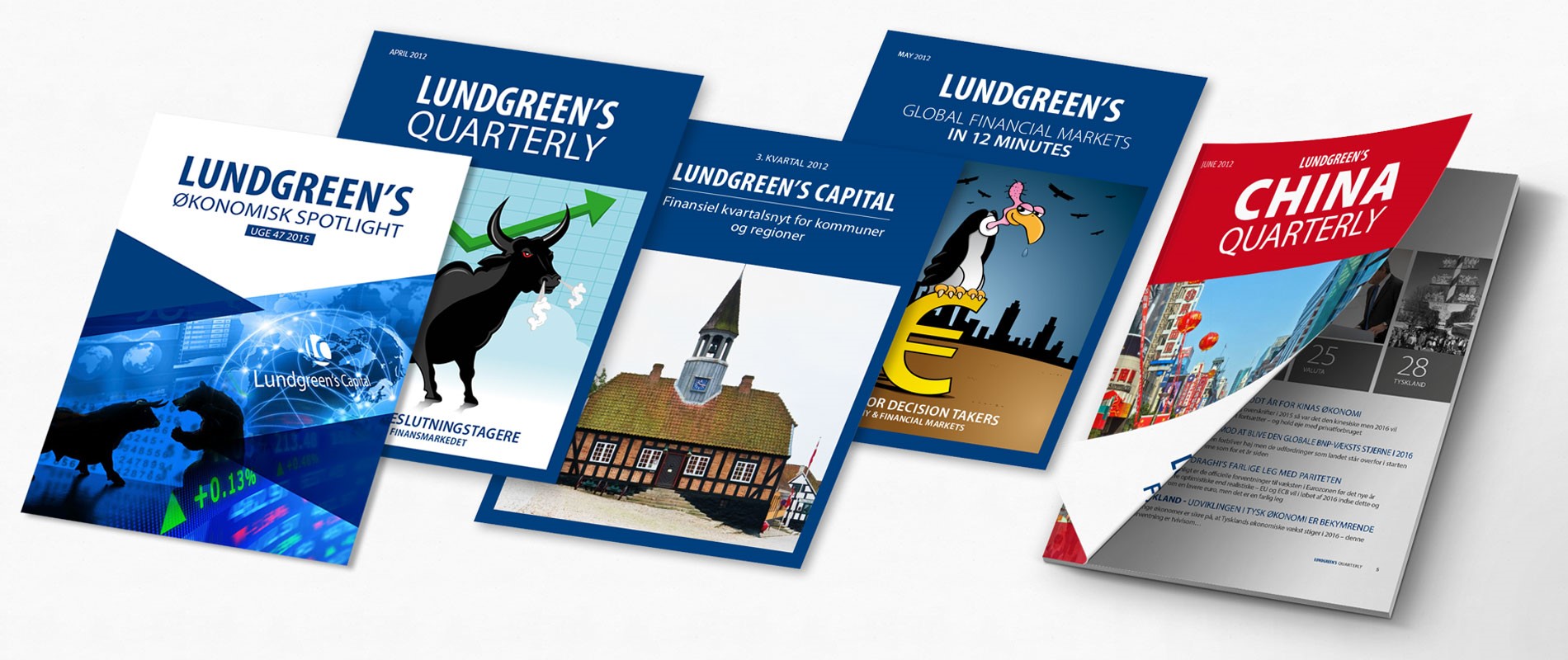 The publications created by Lundgreen's Capital have proven to be excellent channels for disseminating vital industry-related information. It also serves as a platform for Peter Lundgreen to share and express both his personal and professional views and opinions on the European, Chinese, and international financial markets, based on 30 years of international experience and insight as an active member in the world of finance.
All publications are created and sent out as a service.  They are of high demand and regularly read by subscribers in more than ten countries worldwide.
The publications, aside from the weekly newsletters, are exclusive to clients, potential clients and a selected professional network.
Publications are sent out as e-Zines, which are reader-friendly on screen and armed with high-resolution graphics and content. Lundgreen's Quarterly and Lundgreen's China Quarterly are also available in high quality printed editions.
The content of these publications are based on the combination of profound data the company has obtained throughout the years by working and partnering with various companies, organizations, retirement funds, and high-ranking decision makers together with an approach towards economical key numbers and economical political decisions.
In line of the specialization the company has over China, it utilizes an additional range of reports which contain specialized research conducted in its own analysis unit in Hong Kong.
The company believes that although an evaluation and intelligent forecast of the financial market cannot replace risk management, the publications' evaluations partnered with a professional understanding of risk management makes Lundgreen's Capital the perfect ally in tackling financial risks.